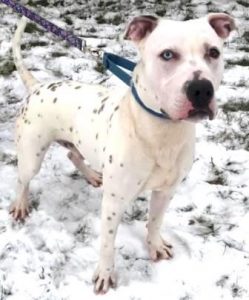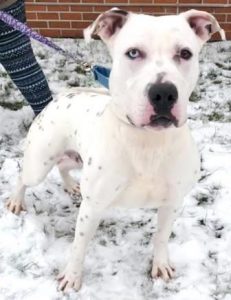 Name: Puddles
Primary Breed: Pitbull/Dalmation Mix
Gender: Male
Entry Date: 11/06/18
Birth Date:  *2017
Adoption Fee:  $150.00
Full Description:  Puddles is a young guy that shelter staff quickly realized is deaf. It is apparent whoever owned him before did not work with him much, and he does not yet know signs or signals. He is eager to learn though, and our staff is working with him to learn basic commands and signals and to better his leash manners. It'd be wonderful for him to find a special family that would be able to work with him consistently out of the shelter environment. He is a super playful guy, lots of energy, and just a big puddle of fun! Puddles also seems to like other dogs, and would be a great addition to your home. Please call the Mason City Stray Animal Shelter at 641-424-3617 for more information.
Adoption fee covers the following veterinarian services: spay/neuter surgery, age appropriate vaccinations, flea and dewormer treatment, feline leukemia/FIV test in cats, heartworm test for dogs.
Animals listed with the Mason City Stray Animal Shelter will be held for 7 days from the "Entry Date" to give the opportunity for an owner to reclaim them.  If not reclaimed, the animal will be made available for adoption to the public.

Puddles has been lovingly sponsored by Allen Halfpop in memory of Linda Bruggeman

Print Friendly