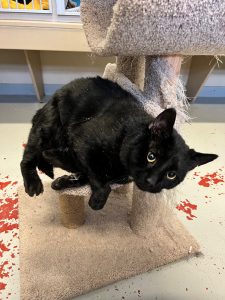 Name: Critter
Primary Breed: Domestic Short Hair
Gender: Male
Entry Date: 5/27/2022
Birth Date:
Declawed: No
Adoption Fee: 105.00
Full Description:  Critter came into the shelter with his buddies Anna and Aries.  His friends have since been adopted and Critter is patiently waiting for his turn.  Critter is a quieter cat who enjoys sunning himself during the day.  When not in his cubby he loves to follow a cats life motto "if I fits I sits" and he loves to perch on the cat tower.  Critter is a big boy who loves treats and strongly believes breakfast is the most important meal of the day.
Please call the Mason City Stray Animal Shelter at 641-424-3617 for more information.
Adoption fee covers the following veterinarian services: spay/neuter surgery, age appropriate vaccinations, flea and dewormer treatment, feline leukemia/FIV test in cats, heartworm test for dogs.
Animals listed with the Mason City Stray Animal Shelter will be held for 7 days from the "Entry Date" to give the opportunity for an owner to reclaim them.  If not reclaimed, the animal will be made available for adoption to the public.