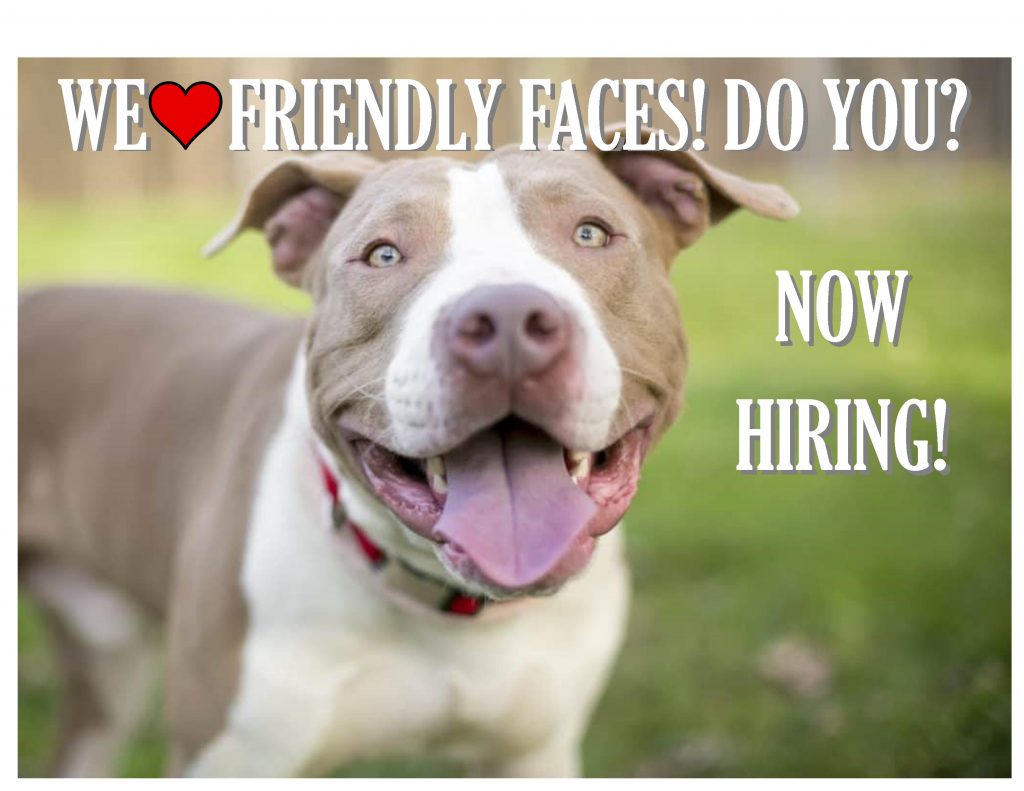 The Humane Society of North Iowa is a fun and rewarding place to work!  If you are a compassionate person who loves animals, this just might be the place for you! Please use the link below to complete and submit your Job Application. You can email your application to us (hsni@hsni.org) or drop it off in person during our open shelter hours.
We currently have the following openings:
Job Title: Animal Caretaker
Position summary: Responsible for the general care and monitoring of the animals in the custody of the Humane Society of North Iowa within the guidelines set by the Board of Directors
Qualifications: Willing and able to work directly with shelter animals (mostly dogs and cats); basic math, reading, writing and oral communication skills; able to read and comprehend simple instructions; able to apply common sense understanding to carry out instructions; able to work well without direct supervision. Must have reliable transportation and be 18 to apply.
Working conditions: Noise level in work environment is loud (barking dogs) and sometimes includes working outdoors in inclement weather.
Hours: Various weekday and weekend shifts available.
Wage: $10.00 per hour
Duties:
Care of animals: feeds and water shelter animals, exercise animals, administers medication per request of Shelter Manager, socialize the animals
Cleaning: scrub, clean and sanitize kennels, sweep and mops floors, cleans outside kennel areas, sprays and disinfects outside dog runs, takes out garbage, does laundry, performs light cleaning duties
Record keeping: keeps track of the day to day health of the animals and makes notations regarding any concerns about temperament, appetite, attitude, health issues. etc….
Other duties: attends to cleanliness of animals, notifies Shelter Manager when running low on supplies, any other duties deemed necessary by Kennel Manager or Shelter Manager
Must be 18 to apply.
Click here for application instructions.
---
Job Title: Certified Veterinarian Technician
The Humane Society of North Iowa seeks a Certified Veterinarian Technician to assist with the basic medical care of cats, dogs and small animals temporarily residing in the shelter. This part-time position is needed Tuesday through Friday for a minimum of 2 hours and up to 6 hours per day dependent on the amount of work to be completed. If you love animals and want to make a difference in the lives of homeless animals, we hope that you'll apply!
Responsibilities:
Perform heartworm tests, feluk tests, and give appropriate vaccines to shelter animals as required
Apply flea/tick treatment and dispense heartworm medications to shelter animals as needed
Examine all animals for any illness, abnormalities or ailments that require treatment
Transport animals to local veterinarian for rabies vaccine and/or other medical treatments as needed
Work with the Shelter Manager to ensure all shelter animals are receiving proper medical care
Requirements:
Must possess a valid Veterinary Technician certification.
Experience in a veterinarian's office as a Veterinarian Technician
Solid communication skills
Ability to work with veterinarian partners and shelter management staff to ensure top quality care
Wage: Commensurate with experience
Hours: Mostly Tuesday through Friday, but flexible based on availability.  Minimum 10 hours and up to 25 hours a week dependent on the amount of work to be completed.
Job location: Humane Society of North Iowa, 2700 South Birch Drive, Mason City, IA
How to apply: Please submit resume and list of references by email to: hsni@hsni.org
---
Job Title: Customer Service Assistant
Seeking friendly, outgoing personality to assist customers, volunteers, and potential adopters at the Humane Society of North Iowa animal shelter. Must be willing to work with the public and with animals. Basic computer knowledge a plus. Must have valid driver's license and reliable transportation. Must be 18 to apply.
Working conditions: Fast-paced environment. Working with the public and animals is required. Noise level in work environment may be loud, lifting up to 40 pounds or more may be required.
Hours: Up to 35/week during shelter hours: Tuesday-Friday (10:00 am-5:00 pm), and Saturday (10:00 am-4:00 pm)
Wage: $10.00/hour
Duties:
• Greeting the public and volunteers in a warm and friendly manner
• Presenting animals to the public and assisting in adoption process
• Answering the telephone and covering the front desk
• Assisting with record keeping as directed
• Socializing and caring for shelter animals; reporting any medical or behavioral concerns
• Educating the public about our procedures and philosophies and increasing general awareness of animal issues
• Providing direct animal care including grooming, bathing, or administering medications as needed or as directed
• Assisting in transporting animals to and from veterinarian's office
• Cleaning animal and shelter areas on an as needed basis
• Picking up and organizing food, medical supplies, and shelter supplies
• Filling in for kennel staff as needed
• Performing other duties as directed
• Maintaining professional and ethical standards in all shelter affairs including confidentiality and positive communication skills.
Must be 18 to apply to have a reliable form of transportation.