ATTENTION VISITORS, VOLUNTEERS, and ADOPTERS:
The Humane Society of North Iowa remains closed to drop-in visitors. Adoptions and volunteer visits are both available through scheduled appointments. (continue scrolling for more info on each subject)
Face masks are required for in-person interactions with our shelter staff during animal adoption or stray animal reclaim processes.
Mask are recommended, but not required for those who visit the shelter to volunteer as these activities are self-directed, distanced and can also be done outside (dog walking).
---
Quick Links:
Below are links to our most frequent inquiries; click each topic for more information.
---
---
VOLUNTEERS WELCOME! (Schedule an appointment below!)

Though the Humane Society of North Iowa remains closed to drop-in visitors, we are open for volunteers through a self-scheduling appointment option (below). This option is only available to volunteers. Please review directions in the next section for details on meeting a specific animal and/or our adoption process.
For everyone's safety and to effectively manage human traffic in the shelter, the following protocols are in place:
All volunteers must complete a Volunteer Application (available online or at the shelter)
All volunteers must be age 10 or older
Volunteers under the age of 16 must be accompanied by an adult and have parental/guardian consent (must sign Volunteer Application prior to arrival)
Volunteers over the age 16 can volunteer unsupervised with parental/guardian consent (must sign Volunteer Application prior to arrival)
Appointments can be made using the calendar below and are available in one hour increments Tuesday-Saturday from 10:00 am to 3:00 pm
2 volunteers allowed per scheduled appointment (please adhere to this limit as it helps us to manage the number of people in the shelter)
Appropriate footwear required for dog walking-no flip flops please!
Volunteers are expected to adhere to social distancing protocols and frequent use of available hand sanitizer while at the shelter. Face masks are recommended, but not required.
Please use the calendar below to make an appointment to come walk dogs, play fetch, or cuddle and play with the kitties! Select a date, then select a time from the what is listed as available. Enter your appointment details where indicated, click submit, and you will receive an email confirming your appointment. We hope to see you soon!!
How we are managing operations during COVID-19: Keeping the shelter sanitary and clean has always been a priority for the Humane Society of North Iowa, but especially during this time, we strive to keep our staff and visiting public as safe as possible. The shelter has been closed to walk-in visits since the middle of March and remains closed until further notice. We have successfully been offering adoptions through appointments once we established safety protocols, and now are happy to offer volunteer appointments as well. If you have any questions, please do not hesitate to call (641-423-6241) or email us: hsni@hsni.org
Please do not visit the shelter if you are feeling ill, have had known contact
with someone who has tested positive for COVID-19 in the past two weeks,
or have a compromised immune system.
---
ADOPTIONS AVAILABLE BY APPOINTMENT!

The Humane Society of North Iowa remains closed to the public, but is OPEN for adoptions! (by appointment only)
To adopt a pet, please submit an application by following this link.
Once your application is approved, we will call and schedule a time for you to come to the shelter to meet your new best friend!
We appreciate your patience during this time. There has been an overwhelming interest in pet adoption during this pandemic, and it is taking staff a bit longer to properly review applications and conduct interviews. THANK YOU!! Take care!
---
The Humane Society of North Iowa operates an animal adoption shelter located in Mason City, IA. Since organizing in 1959, we have found loving homes for over 11,000 abandoned, displaced, and neglected animals!! We hope we can help you find your new best friend too! Please view our available animals online!
What's New?
There is always something going on at the Humane Society of North Iowa!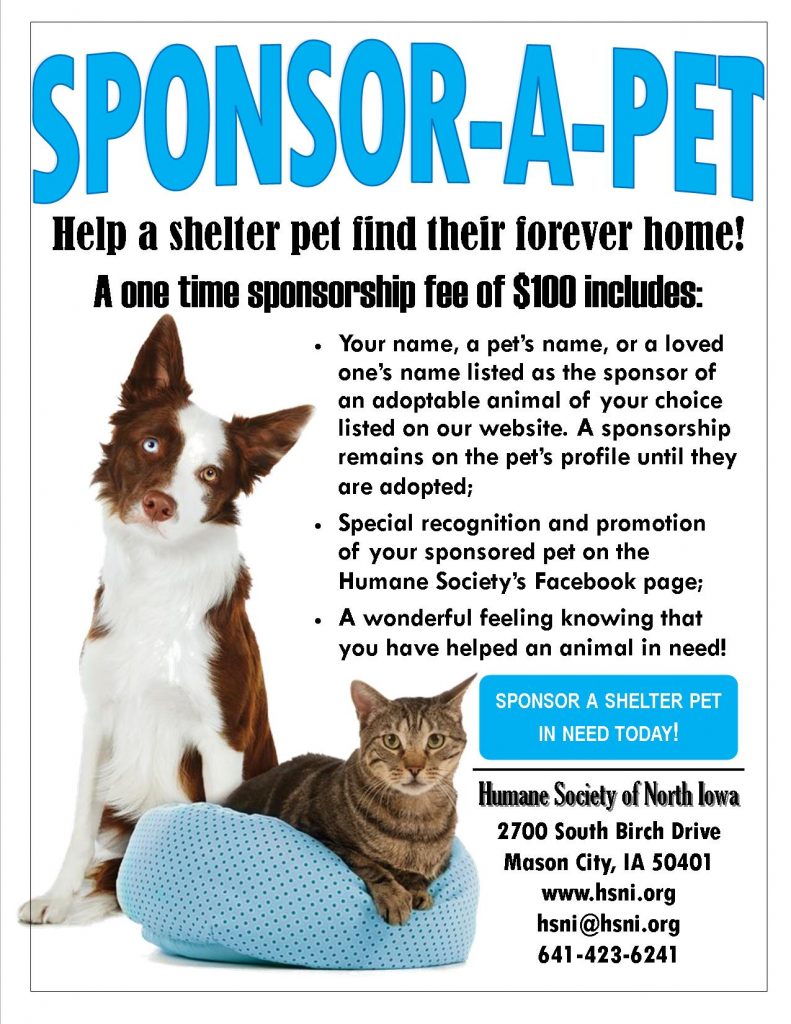 Improving Iowa's Animal Cruelty Laws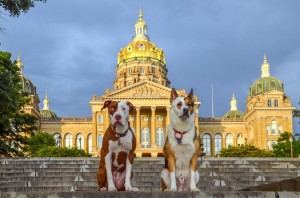 As welfare advocates, improving Iowa's animal cruelty laws is a huge priority for us. (Iowa is ranked 49th in the nation for comprehensive animal welfare laws)
There have been a number of criminal cases of animal cruelty/torture in our community in recent years. (Here's a recap: Cerro Gordo County Cruelty Cases) (*warning, recap includes details of animal cruelty cases. Does NOT include any photos of animals)
The Animal Rescue League's Humane Action Network seeks to work with Iowa Legislators to strengthen and improve the animal cruelty laws in our state.
Citizen's interested in being involved in the process of communicating our goals with our Legislators are encouraged to sign up for "Action Alerts" from the Humane Action Network. Participants will receive notice when action is needed to voice support for animal cruelty related legislation in our legislature. Sign up here.
---