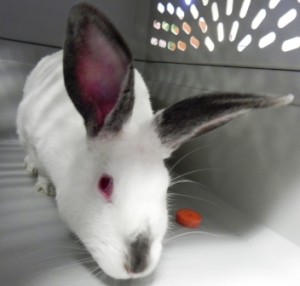 Name: April
Primary Breed: Californian Rabbit
Gender: Female
Entry Date: 4/3/15
Birth Date:  Adult
Adoption Fee: $25.00
Full Description: There's only one way to become a resident of the Mason City Stray Animal Shelter, and that is to be found as a stray. Obviously, a big white bunny like me used to be someone's beloved pet, but so far, no one has come forward claiming me as their own.  The staff here are wonderful and give me plenty of love and treats (carrots are my favorite), but what I really want is to live in a home again.  If you are interested in adopting me, come out to the shelter or call the Mason City Stray Animal Shelter at 641 424-3617 for more information.
Animals listed with the Mason City Stray Animal Shelter will be held for 7 days from the "Entry Date" to give the opportunity for an owner to reclaim them.  If not reclaimed, the animal will be made available for adoption to the public.