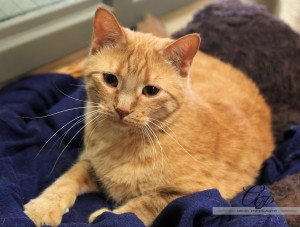 Name: Cougar
Primary Breed: Domestic Short Hair
Gender: Male
Entry Date: 3/7/2013
Birth Date: 7/2011
Declaw:  No
Adoption Fee: $50.00
I am now considered a  "CABIN FEVER CAT", which means that I have been in the shelter for more than a year!!  My adoption fee has been reduced to $50.00 to help me find my forever home!  
Full Description: I entered my previous home as a stray kitten in 2011. I was just so friendly that they couldn't bear leaving me outside in the cold. I lived with a small dog that I adored. I would rub against him and purr. There were no children in my home, but I enjoyed visits from my young friends.   I'm a sweet boy who loves to get my motor running with a good rub and would do well in just about any home. Please call the Humane Society of North Iowa at 641-423-6241 for more information. Photo courtesy of Arickx Photography.