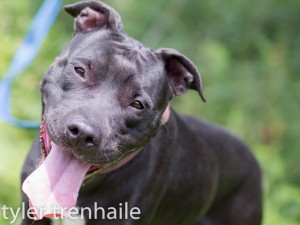 Name: Lana
Primary Breed: Pit Bull Terrier
Gender: Female
Entry Date: 5/16/15
Birth Date: 5/2013
Adoption Fee:  $135.00  *Pre-paid, no fee
Full Description:   I have been in the shelter for quite some time now.  I initially came in as a stray and it was clear from my condition that I did not receive the best of care in my previous home.

 Several months have passed though and I've received excellent care here at the shelter, was seen by the shelter veterinarian and I'm in great health now! My time in the shelter has been pretty decent:  The staff is really nice to me, lots of volunteers come to walk me and play with me, and the food is good! However, I long for a home to call my own with an owner who will love me and spoil me.  I haven't exactly made a lot of canine friends here at the shelter, so staff is unsure if I could live with another dog or not.   My kennel is always clean and dry so it appears as though I am house trained.  I really hope there is a home out there for me!!  Please call the Mason City Stray Animal Shelter at 641 424-3617 for more information. Photo courtesy of Tyler Trenhaile
Adoption fee covers the following veterinarian services: spay/neuter surgery, all appropriate vaccinations, flea and wormer treatment, feline leukemia test in cats, heartworm test for dogs.
Animals listed with the Mason City Stray Animal Shelter will be held for 7 days from the "Entry Date" to give the opportunity for an owner to reclaim them.  If not reclaimed, the animal will be made available for adoption to the public.
*Lana's adoption fee has been pre-paid by our friends at North Iowa Community Credit Union who want to spread some holiday cheer this Christmas season!!