ATTENTION VISITORS, VOLUNTEERS, and ADOPTERS:

COVID-19 STATUS SERVICE UPDATES:
VISITING: The Humane Society of North Iowa is currently closed to drop-in visitors.
ADOPTIONS: Adoptions are being handled through scheduled appointment and require a pre-approved Adoption Application. (full details on how to adopt an animal: here.)
VOLUNTEERING: We have temporarily suspended volunteer appointments until further notice. Please follow our Facebook page for the latest updates on when we will resume volunteer activities.
Face masks are required to enter the building and must remain on for adoptions, reclaims and interactions with others inside the building..
---

QUICK LINKS:
Below are links to our most frequent inquiries; click each topic for more information.
---
Chocolate and Romance 2021 Fundraiser Canceled!
We have some rather pupsetting news to share….
Due to COVID, we will not be hosting our annual Chocolate and Romance fundraiser this year (usually held in the month February).
We've not been able to hold any fundraisers for almost an entire year now, and it's been a challenging time for us; The plight of homeless animals does not disappear during a pandemic.
WE NEED YOUR HELP! With no fundraising events, our resources are spread thin.
Can you chip in to help us help animals? May we suggest a donation of $15 (the usual cost of a ticket for our Chocolate and Romance event)? Or a donation in the amount you might have spent on the silent auction at this event?
A donation in ANY amount will help us continue to be a sanctuary for displaced, neglected and abused animals that are counting on us. Can we count on your help?
Paypal link: paypal.me/humanesocietynorthia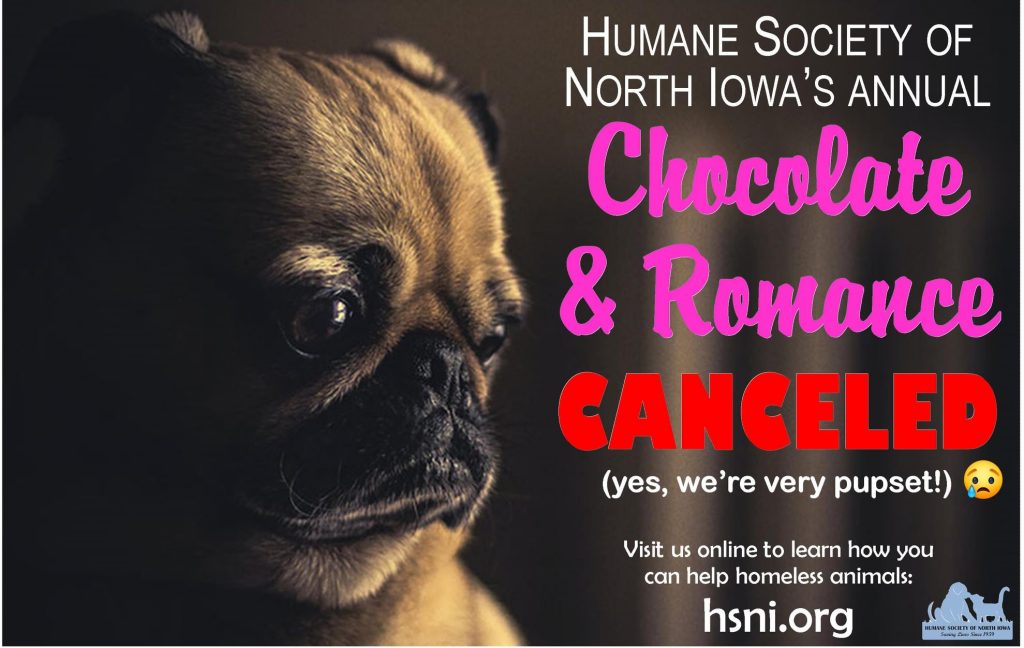 ---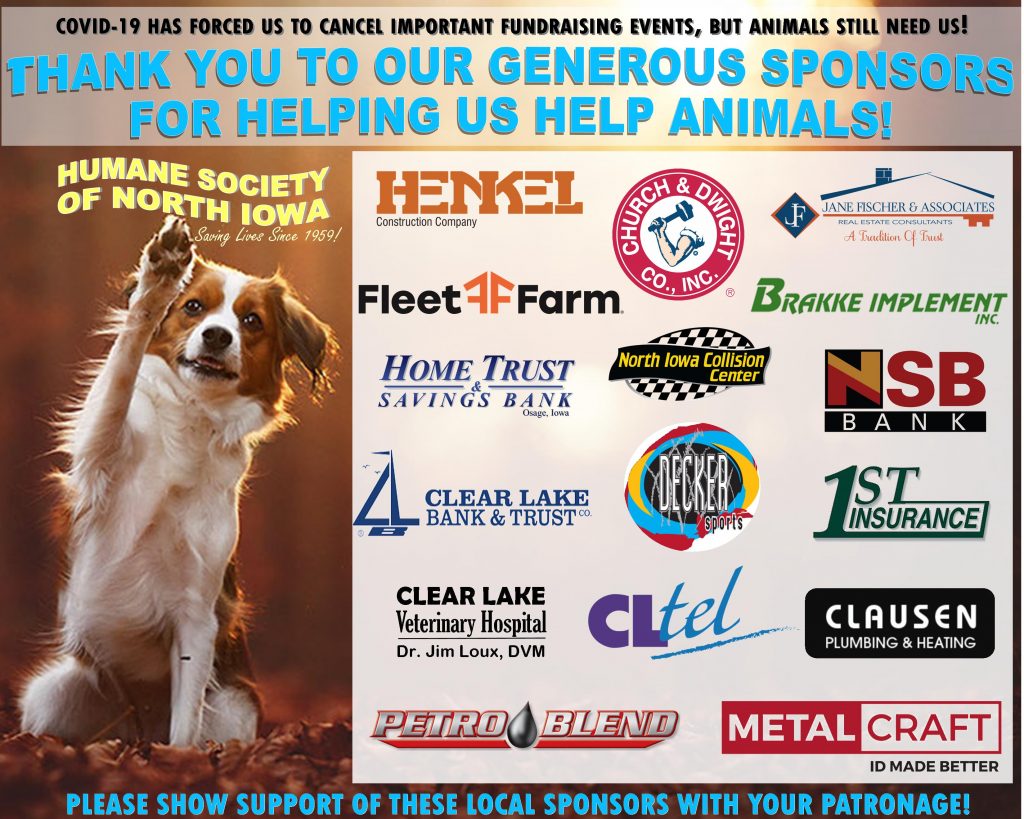 THANK YOU TO OUR GENEROUS SPONSORS!!
We would like to thank these north Iowa businesses for their continued support of our efforts…especially during these challenging times.
Every year, the Humane Society of North Iowa helps hundreds and hundreds of displaced, abused and neglected animals find their happy ending. This takes a lot of heart, a lot of compassion….and a lot of resources. In normal times, we hold events year round to help us raise the funds we need to help the animals that need us the most. But in the time of COVID, this has not been possible. 
Thankfully, businesses that have sponsored our events in the past continue to support our efforts now….with or without an event! Many thanks to these generous friends for helping us continue the work we do for animals! We are truly grateful!
Please show your support for these sponsors with a kind word of thanks and your patronage when possible! 
---
.
---
ADOPTIONS AVAILABLE BY APPOINTMENT!

The Humane Society of North Iowa remains closed to the public, but is OPEN for adoptions! (by appointment only)
To adopt a pet, please submit an application by following this link.
Once your application is approved, we will call and schedule a time for you to come to the shelter to meet your new best friend! 
We appreciate your patience during this time. There has been an overwhelming interest in pet adoption during this pandemic, and it is taking staff a bit longer to properly review applications and conduct interviews. THANK YOU!! Take care! 
---
The Humane Society of North Iowa operates an animal adoption shelter located in Mason City, IA.  Since organizing in 1959, we have found loving homes for over 11,000 abandoned, displaced, and neglected animals!!  We hope we can help you find your new best friend too!  Please view our available animals online!
What's New?
There is always something going on at the Humane Society of North Iowa!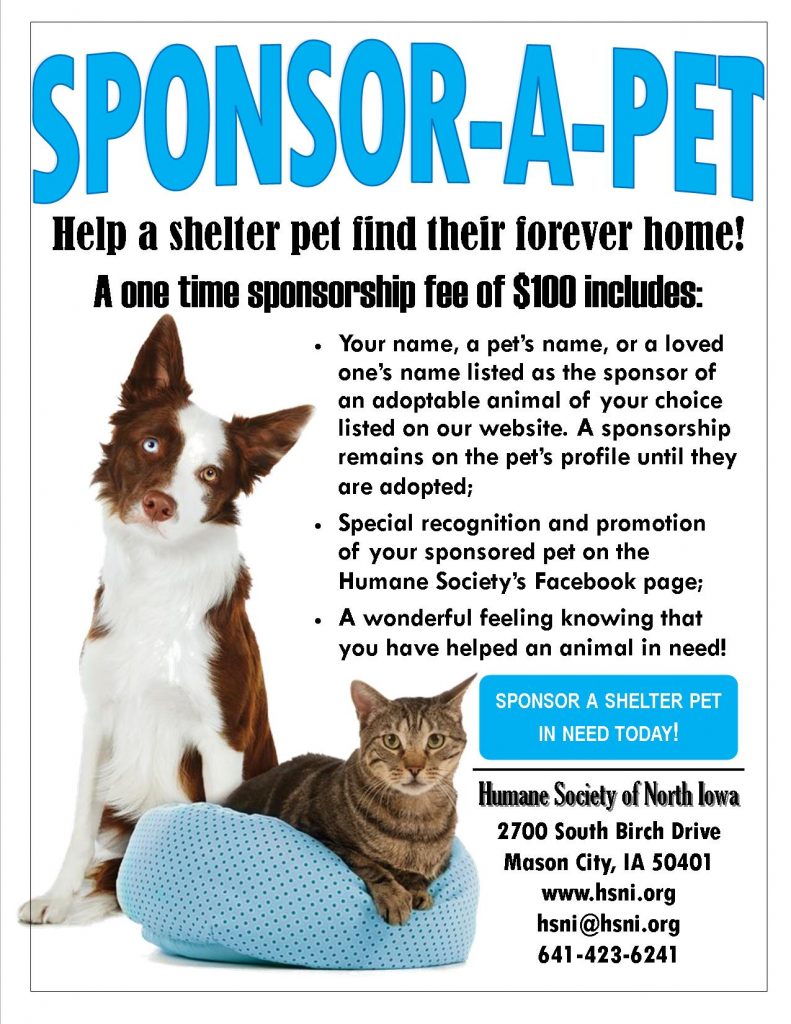 Improving Iowa's Animal Cruelty Laws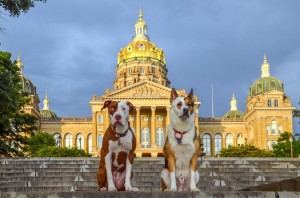 As welfare advocates, improving Iowa's animal cruelty laws is a huge priority for us. (Iowa is ranked 49th in the nation for comprehensive animal welfare laws)
There have been a number of criminal cases of animal cruelty/torture in our community in recent years.  (Here's a recap: Cerro Gordo County Cruelty Cases) (*warning, recap includes details of animal cruelty cases. Does NOT include any photos of animals)
The Animal Rescue League's Humane Action Network seeks to work with Iowa Legislators to strengthen and improve the animal cruelty laws in our state.
Citizen's interested in being involved in the process of communicating our goals with our Legislators are encouraged to sign up for "Action Alerts" from the Humane Action Network.  Participants will receive notice when action is needed to voice support for animal cruelty related legislation in our legislature.  Sign up here.
---