Welcome to the Humane Society of North Iowa!
The Humane Society of North Iowa operates an animal adoption shelter located in Mason City, IA.  Since organizing in 1959, we have found loving homes for over 10,000 abandoned, displaced, and neglected animals!!  We hope we can help you find your new best friend too!  Please view our available animals online, or even better, come visit them in person!
What's New?
There is always something going on at the Humane Society of North Iowa!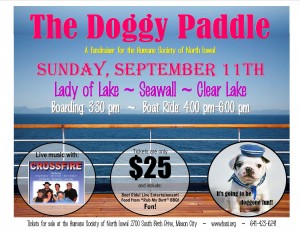 The Doggy Paddle will be held on Sunday, September 11th on the Lady of the Lake excursion boat in Clear Lake! This event will include: Live music with the band "Crossfire", BBQ dinner provided by "Rub My Butt BBQ", a 2 hour excursion cruise on beautiful Clear Lake and a boatload of fun!
Tickets are $25 each and are available NOW at the shelter!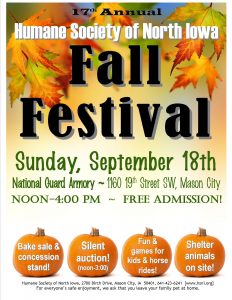 The Humane Society of North Iowa will hold their 17th annual Fall Festival Fundraiser on Sunday, September 18th, 2016 from 12:00 – 4:00 at the National Guard Armory in Mason City.  This fun family event includes a silent auction, bake sale, concession stand, kids' activities including horse rides and bounce house, and much more! Adoptable animals from the shelter will also be on site.
All proceeds benefit the Humane Society of North Iowa. For more information, call the shelter at 641-423-6241, check our website atwww.hsni.org
This event is free to attend. A $5 fee is charged for admission into the kid's play area (bounce house, games, activities, etc…) For everyone's safe enjoyment, we ask that you leave your family pet at home.
Improving Iowa's Animal Cruelty Laws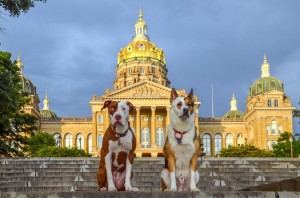 Last year we hosted a meeting at the shelter on the topic of improving Iowa's animal cruelty laws. (Iowa is ranked 49th in the nation for comprehensive animal cruelty laws…followed only by the state of Kentucky)  Representatives from the Animal Rescue League in Des Moines were here and talked about what we can do to help animals in our state.
There have been a number of criminal cases of animal cruelty/torture in our community in recent years.  (Here's a recap: Cerro Gordo County Cruelty Cases)
The Animal Rescue League's Humane Action Network seeks to work with Iowa Legislators to strengthen and improve the animal cruelty laws in our state.
Citizen's interested in being involved in the process of communicating our goals with our Legislators are encouraged to sign up for "Action Alerts" from the Humane Action Network.  Participants will receive notice when action is needed to voice support for animal cruelty related legislation in our legislature.  Sign up here.
Humane Society of North Iowa offers micro-chipping service
The Humane Society of North Iowa offers pet micro-chipping for only $30 per pet!
We proudly use the "Pet Link" microchip, a safe, easy and reliable chip that gives your pet the BEST chance to be returned to you should they ever get loose, stray or become missing.
Micro-chipping provides the peace of mind that you've given your pet the permanent, lifetime ID he needs for the best chance to come home!
The process is quick, simple and relatively painless. To have your pet(s) micro-chipped, you must make an appointment! Please call the shelter to make your appointment today! 641-423-6241
For more information about the micro-chipping process, please visit the Pet Link website: